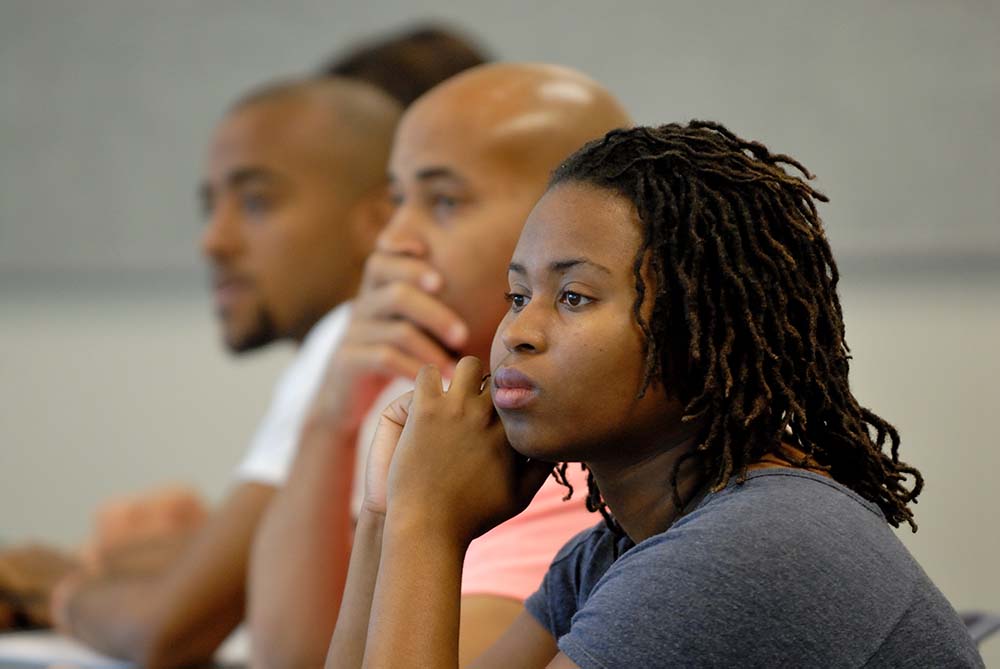 The Center for Culturally Responsive Evaluation and Assessment (CREA) is located in the College of Education at the University of Illinois at Urbana-Champaign. It is an interdisciplinary endeavor that brings researchers together from across the College and University, as well as domestic and international research partners, to address the growing need for policy-relevant studies that take seriously the influences of cultural norms, practices, and expectations in the design, implementation, and evaluation of social and educational interventions.
The creation of an interdisciplinary evaluation Center is grounded in the need for designing and conducting evaluations and assessments that embody cognitive, cultural and interdisciplinary diversity. To address questions, issues, theories, and practice related to what has come to termed "culturally responsive evaluation" (CRE) and culturally responsive educational assessment.
Our focus is to establish a national presence in educational research, evaluation, and assessment unique among its peers. Integrating teaching, research and scholarship relevant to the cultural context in educational research, evaluation and assessment, we not only serve the College of Education but graduate students in applied fields such as social work, nursing, public health and STEM-related fields. The overall goal of the Center is to encourage not only culturally sensitive research but culturally responsive as well. Culturally sensitive and responsive practices both recognize ethnicity and position culture as central to the research process.
CREA at Dublin City University
Fulfilling its intent to continually expand its international scope and reach, Dublin City University's School of Education Studies established a sibling CREA office in 2012 directed by Head of School Professor Joe O'Hara and Professor McNamara. Professors O'Hara and McNamara have been in collaboration with Professor Hood in the meaningful incorporation of culturally responsive approaches in evaluation as being vital to address the changing cultural and ethnic context of education in modern day Ireland. Assessment and Evaluation are key to addressing such issues of equality, equity, inclusion, and diversity. The Center for Culturally Responsive Evaluation and Assessment at Dublin City University promotes awareness and advocates and supports social change initiatives, polices, practices, and programs that help unify and become change agents within their country, communities, and schools.
Please visit CREA at Dublin City University's site for more information.
CREA-Hawaii
After the first CREA Conference in 2014, the Consuelo Foundation agreed to host an ongoing discussion with approximately 20 participants representing community-based organizations, non-profit organizations working with both community and educational institutions including the University of Hawaiʻi, the Kamehameha Schools, Liliʻuokalani Trust, the Office of Hawaiian Affairs, the Hawaiʻi-Pacific Evaluation Association, and the Native Hawaiian Educational Council. This hui (gathering) meets and continues to meet to share their work and approaches, highlight key issues they face, and develop and affirm their dedication to culturally responsive approaches to evaluation and assessment.
CREA-Hawaiʻi is dedicated to idea that "Aʻohe pau ka ʻike i ka halau hoʻokahi" (all knowledge is not learned in one school).
Our mission is to use a Native Hawaiian lens to offer empowering, values-based evaluation approaches that support insights and conclusions which, in turn, promote equity and justice in the diversity that is Hawai'i. To do this we will weave together and share cultural knowledge, tools, and practices that are grounded in and affirm a Native Hawaiian worldview.
The CREA-Hawaii office was established in 2016 and is directed by Drs. Herb Lee Jr. (Executive Director of the Pacific American Foundation) and Katherine A. Tibbetts (Director of Research and Evaluation at the Lili'uokalani Trust).