New Update!!!
2021 Sixth International CREA Conference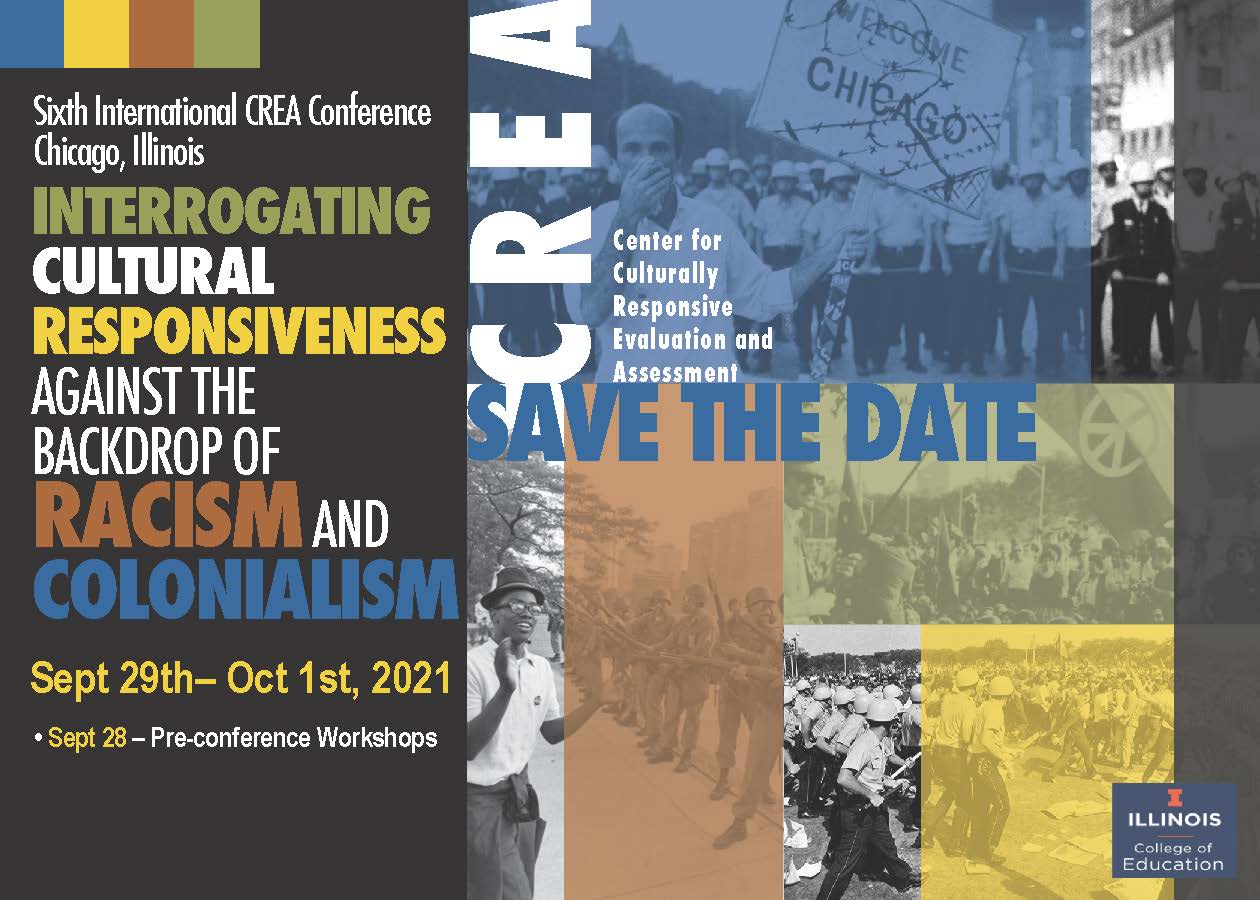 More Information on CREA's 2021 Conference Keynote Speakers, Presentations, and Workshops coming soon......
CREA 2020 Virtual Conference Plenary session video links
Date

Plenary session Title

Keynotes / Panelist / Discussants / Chair / Presenters

Video Link

Wednesday, September 30th, 2020

Opening Remarks

Presenter(s): Stafford Hood, CREA Founding Director
James Anderson, Dean, College of Education at Illinois,
CREA Dublin, CREA Hawaii, CREA Become
Tamara Bertrand Jones, CREA Planning Committee
Video
Wednesday, September 30th, 2020

Implications of our conference theme for professional identity, practice, and aspiration Beyond the conference theme: implications for professional identity, practice, and aspiration

Chair/Discussant: Melvin E. Hall Ph.D. Northern Arizona University

Panelist: Fiona Cram Ph.D. (Maori, Ngāti Pahauwera) CEO Katoa Ltd, Dominica McBride Ph.D. Founder and CEO of Become, Inc

Video
Thursday, October 1st, 2020

Life Beyond Evidence: The Death of the University

Keynote: Sandy Grande Ph.D., Connecticut College

Chair: Sharon Nelson-Barber Ed.D., WestEd

Discussant: Eve Tuck Ph.D. University of Toronto

Video
Friday, October 2nd, 2020

Why Should We Measure Racial Microaggressions and Racial Microaffirmations in the Context of Higher Education.

Keynote: Daniel G. Solorzano Ph.D., University of California, Los Angeles

Chair/Discussant: Caroline Turner Ph.D., California State University, Sacramento

Video
Friday, October 2nd, 2020

Closing remarks

Presenter(s): CREA Leadership Team
Video
CREA VI : Where we are now

The CREA leadership team, staff, and Dean James D. Anderson (College of Education, University of Illinois at Urbana-Champaign) concur about the sense of urgency for the voice of CREA's global community to be heard this Fall as an abbreviated virtual conference with the in-person conference convening in March 2021. The virtual conference will include: 3 keynote/plenary addresses freely accessible for the first 350 registrants and seven half day professional development workshops ($50 each) during the period of September 30-October 2. In view of the notable interest thus far for the virtual conference, we are confident that our impressive line-up of speakers and workshops will serve as a prelude to strongly encourage your participation at the in-person in March 2021.
PURPOSE

People of Color are increasingly experiencing the world as an unsafe and inhospitable place. The burden of racism and colonialism is steadily increased by those in positions of authority who fail to speak out and name acts of racism and hatred for what they are. We are committed to culturally responsive evaluation, measurement, and assessment. This commitment requires courage and strategizing to ensure that the lives of People of Color are accurately and visibly represented. We also need to interrogate ourselves as practitioners of assessment and evaluation to ensure that we are interrupting rather than perpetuating systems of power that are marginalizing.
THEMES
The CREA 2020 theme of Interrogating Cultural Responsiveness against the Backdrop of Racism and Colonialism will focus on the following areas in program evaluation, measurement, and assessment:
Being culturally responsive in the midst of discomfort and opposition—critically reflecting on our professional experiences and strategies for maintaining and strengthening our cultural responsiveness
Choosing to be part of a solution rather than part of a problem—how well do we encourage interpersonal and academic discussions of racism and colonialism
Building the capacity of those we work with—communities, organizations, funders—to understand history, culture and the distribution of power resulting from racism and colonialism
Naming, unpacking, and destabilizing white privilege to understand how racism and colonialism negatively impact all peoples
Delving deeper into the intersections of racism and colonialism with sexism, transphobia and other prejudices that marginalize and exclude
Examining the theoretical roots of cultural responsiveness through the intersecting lenses of racism and colonialism.